The Best Seafood Restaurant in Vancouver, BC
At Pink Peppercorn Seafood House, you will enjoy a delicious meal in the best fine dining experience available in Vancouver, East Vancouver, or Mt. Pleasant, BC. We serve an excellent variety of fresh seafood appetizers and entrees, as well as outstanding other plates prepared by our expert chefs to be sure you have the fine dining experience you deserve.
Top Seafood and Steakhouse Dining
Whether you are visiting Vancouver or call it your home, when you want a night out on the town at one of the best restaurants around, Pink Peppercorn Seafood House is your answer. Our restaurant boasts the very best chefs and we serve only the freshest, most carefully prepared entrees and appetizers to be sure your experience is a wonderful one. Step inside our restaurant and you will see why it is consistently chosen as a favorite location for romantic evenings,
celebrations and other special occasions. With the charming, intimate décor, you can enjoy a private evening without the stuffy atmosphere often found at other fine dining restaurants. Our servers go out of their way to be sure you receive the very best service and finish your meal extremely satisfied.
While there are other options in fine dining in Vancouver, BC, only our restaurant offers the outstanding variety of fresh seafood, including fresh Nova Scotia lobster, wild salmon, Louisiana style catfish, ahi tuna, scallops and much more. In addition to seafood, we serve New York steak, roasted rack of lamb, free-range chicken breast and beef tenderloin. There is truly something for any palette at Pink Peppercorn Seafood House, so get in touch with us to plan your next night out! Our guests call us their favorite seafood restaurant in Vancouver, BC, because:
We serve the freshest, most delicious seafood entrees.
Our menu includes both classic entrees, as well as creative, new recipes.
We are consistently ranked among the very best restaurants in Vancouver.
We sell our own signature lobster oil.
Our prices are reasonable.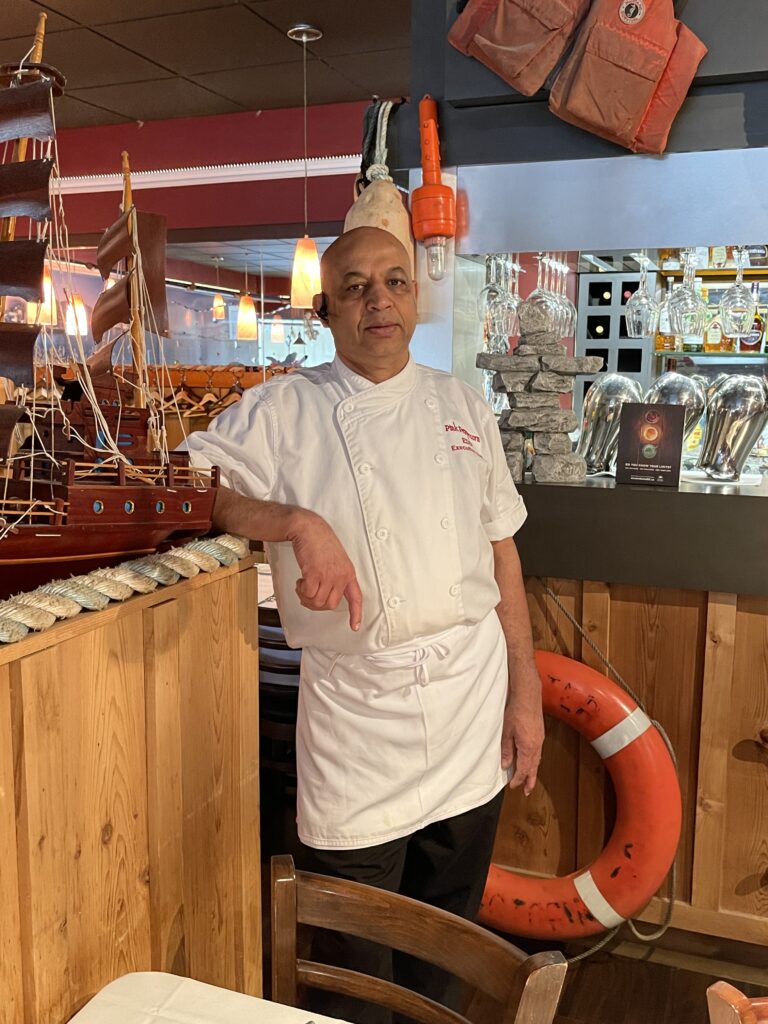 Fresh Seafood in Vancouver, BC
For years, guests of Pink Peppercorn Seafood House have been rating us as their favorite destination for fine dining and fresh seafood in Vancouver, BC. We go out of our way to make sure our menu offers an excellent variety of options of both traditional and new recipes to satisfy any appetite. Guests are delighted to find that we choose ethically responsible foods, like free-range chicken and wild-caught salmon. All of our dishes are carefully prepared per order to be sure each guest is enjoying the very best dining experience.
Our menu includes:
Appetizers: 

Our appetizer menu is extensive and includes a wonderful array of salads, soups and seafood options. Some of our guests' favorites include our lobster bisque, warm spinach, prawn and papaya salad, trio of ahi tuna, salmon and scallop tartare, San Francisco style mussels and much, much more.

Entrees: 

The only problem you'll have with our entrée menu is trying to decide what to order. From fresh crab and lobster to wild salmon, to sautéed scallops and prawns, we serve the very best fresh fish in Vancouver, BC. In addition, we serve a number of outstanding non-seafood entrees including roasted rack of lamb, 10oz New York steak, aged Alberta beef wellington and more.

De

sserts: 

Be sure to save room for dessert, because you will want a taste of our mouth-watering desserts. We serve New York cheesecake, tiramisu, strawberry and rhubarb crumble, roasted pecan pie and white chocolate mousse cake, among other delicious dessert options.
Call today at 604-569-3626 to make a reservation today at Pink Peppercorn Seafood House and dine in fine style at the very best seafood restaurant for diners in Vancouver, East Vancouver, and Mt. Pleasant, BC.